Inclusive global initiative addresses skills gaps and plan for sustainable workforce
          Lifelong vocational education and skills development are essential for organisations to prepare for the future of work, according to education thought-leaders who will be joined by government and industry at the Asia Pacific Vocational Education and Training Forum (APAC TVET Forum 2022) on Wednesday to Thursday, 14-15  September.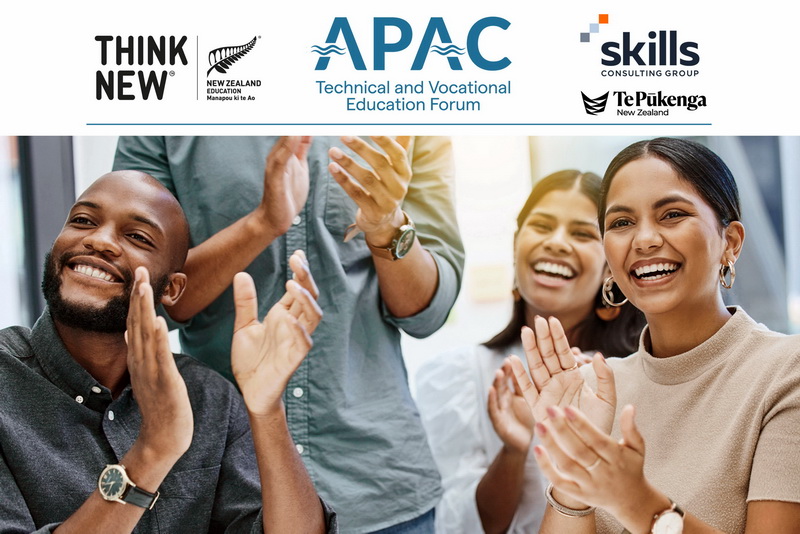 Hosted by Education New Zealand in partnership with Skills Consulting Group and Te Pūkenga – New Zealand Institute of Skills and Technology, the free online forum will focus on solutions for skill building the current and next generation. Hon Chris Hipkins, New Zealand's Minister of Education, will open the forum.
          The theme for this year's APAC TVET Forum is Reshape – Rethink – Reset, and brings together leading New Zealand and international figures in all aspects of education to address skills gap solutions and plan for developing a sustainable workforce. Skills Consulting Group Vice President Global Markets, Bridget Dennis says the pace of change in work-based skills requirements has accelerated as the world deals with skills shortages as well as fallout from the Covid-19 pandemic.
          "Only together can we strengthen our skills development systems and programmes to create better working lives for individuals, stronger businesses and industries; and more prosperous economies."
          APAC TVET Forum 2022 will see 30 speakers from 12 countries addressing an online audience in keynotes, panels and break-out sessions over two days on Wednesday to Thursday, 14-15 September.
It will be hosted via a state-of-the-art virtual environment, where as well as attending live presentations, attendees can:
          – participate in Q&A sessions
          – book individual consultations with experts on topics including instructional design, micro-credentials and work-based learning policy.
          – exchange questions, experiences and ideas in 1:1 networking opportunities and video meetings
          – access the research centre to browse 1000+ pages of latest industry studies Te Pūkenga's Chair, International Working Group, Leon Fourie says a collaborative approach is vital for addressing skills shortages.
          "Creating a high value future for global students by providing excellent education outcomes, improving student experience and wellbeing and putting the learner at the centre of everything we do has to be a priority for the TVET sector," Fourie says.
          "A collaborative approach focussed around networking and sharing information can only improve learner experience."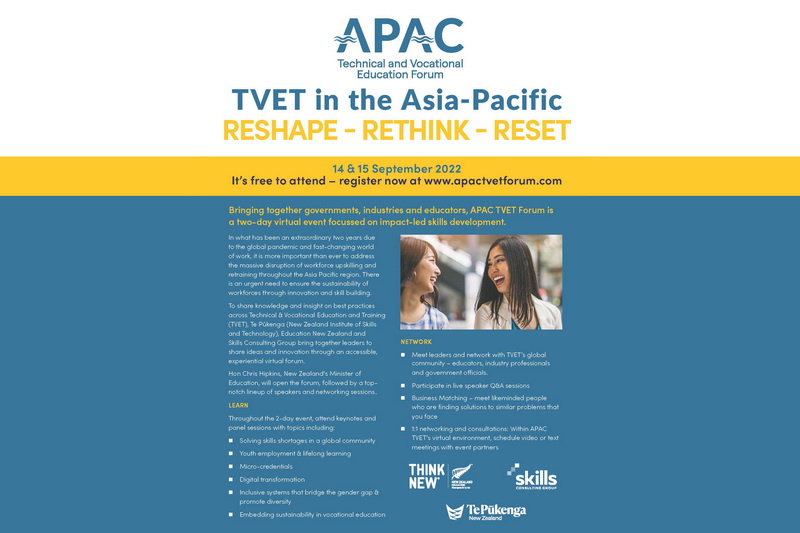 APAC TVET Forum 2022 speakers include:
          Akustina Morni, Senior Adviser at the International Organisation of Employers (IOE), will present research on quality apprenticeships and the standard setting process as an instrument being negotiated at the International Labour Organization.
          Dr. Dee Halil,  Datacentre Region Expansion Skills Program Manager for Microsoft, will address the skills shortage and rapidly growing digital economies across the globe. While increasing mobility for talent and making digital skilling more accessible, Halil will give insight on a recently developed cybersecurity training program.
          Mr. Phornvit Phacharintanakul, Senior Vice President, CP Group (Thailand) will discuss the company's moves to set up its own work-based education institutions to ensure graduates are fully prepared for work, with practical and academic skills but also life skills.
          As part of the forum, a panel of learners including successful young people from WorldSkills Champions Trust will address creating a movement of change so people of all ages can enjoy inclusive, equitable and high-quality lifelong learning.
          We are also thrilled to announce that the China-New Zealand Higher Vocational Education Summit will take place as part of the main forum.
          Other topics include the future of apprenticeships, digital transformation and green skilling. All main sessions (keynotes and plenaries) will offer synchronous translation in four languages: Mandarin, English, Bahasa Indonesian, and Vietnamese. Advocating for the best outcomes for future leaders, Education New Zealand's Chief Executive, Grant McPherson, says:
          "The forum is an essential calendar date for anyone interested in equipping the next generation with the skills required to live and lead in a diverse and integrated world."
Visit www.apactvetforum.com for a full list of APAC TVET Forum presenters, a detailed schedule and more information on how to register.
It's free to attend – register now at https://scg.6connex.com/event/Skills/apactvet2022/register.