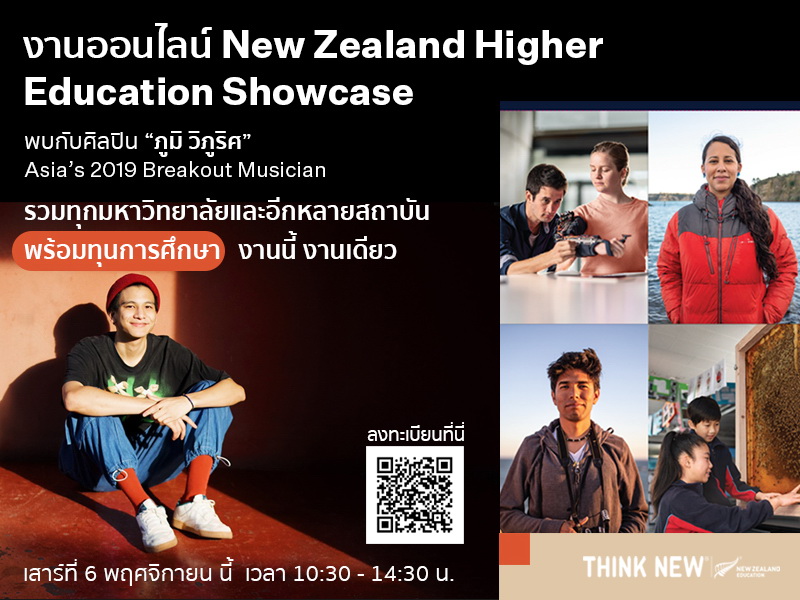 Education New Zealand (ENZ) and the New Zealand Embassy in Thailand today announced they will be holding their inaugural New Zealand Higher Education Showcase on 6 November. Specifically designed for students in Thailand who are looking to pursue higher education in New Zealand in the long-term, the showcase is now open for free registration to both interested students and their parents, here. https://bit.ly/NZHighereducatoinshowcase2021
          At the virtual Showcase, attendees will have the opportunity to watch online presentations and have one-on-one meetings with New Zealand educational institutions. From these meetings, they can find out more about the institutions' current offerings (both online and in-country options) and discover what's possible when international students are able to safely return to New Zealand.
          Almost 20 New Zealand institutions including universities, New Zealand institutes of technology and other institutions will be participating in the virtual education showcase. A total of eight New Zealand universities include the Auckland University of Technology, The University of Auckland, Massey University, The University of Waikato, Victoria University of Wellington, University of Canterbury, Lincoln University and University of Otago.
          All these New Zealand universities sit among the world's Top 3 per cent of universities according to the Quacquarelli Symonds (QS) 2021 Rankings. Furthermore, according to the Economist Intelligence Unit Educating for the Future Index 2019, New Zealand has emerged the top English-speaking country in the world when it comes to preparing students for the future.
          Students attending the showcase can also seek out more information about the various scholarships offered by the institutions.
          The 2021 New Zealand Higher Education Showcase will also see ENZ launch details of their 1-year Master's Degree programmes available to Thai students. Some of these Master's Degree programmes include the Master's Degree in Digital Business, Master's Degree in User Experience Design, Master's Degree in Agribusiness, Master's Degree in Bioscience Enterprise, and Master's Degree in Robotics and Automation Engineering, amongst others.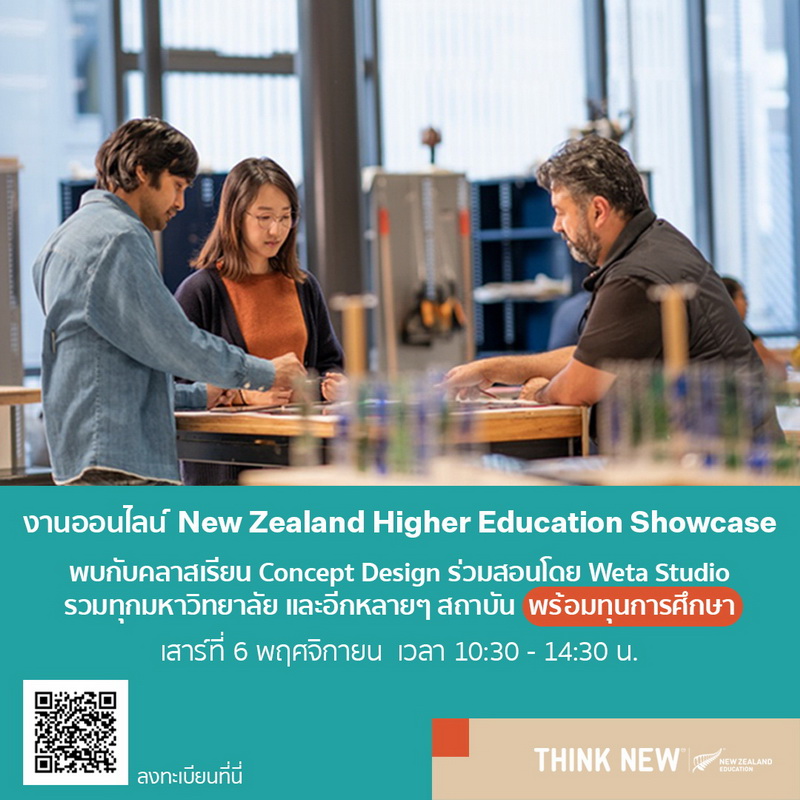 ENZ's Regional Director Asia, Ben Burrowes, said this education showcase workshop reasserts New Zealand's commitment to bringing the New Zealand education closer to more governments and institutions.
          He said, "With the 2021 New Zealand Higher Education Showcase, we hope to be able to demonstrate the best of New Zealand's higher education sector to students in Thailand. There is a huge range of options for Thai students to begin their New Zealand study experience either online or with partner institutions in Thailand.
          "The New Zealand education system is one of the most dynamic and enriching, and we know that the decision making process behind selecting an international education destination requires plenty of time.
          "With information shared during the showcase, we hope students will be motivated by the value that our education system can offer, and indeed, we look forward to physically welcoming students once borders have reopened."
Other activities open for participation during the 2021 New Zealand Higher Education Showcase are as follows:
          – Concept Design Class featuring the International Ultimate Concept Artist Award Announcement (Won by a Thai student this year). The class will be instructed by Massey University which offers entertainment design programmes with Weta Studio, the world-renowned film studio.
          – Visit our virtual exhibition hall for VDOs and Brochures from almost 20 institutions.
          – You will find all the information you need on applying for scholarships, with advice on how to submit your application and what to include.
          – Hear from 2021 New Zealand Alumni Hall of Fame inductees who will be sharing their success and work experience in New Zealand.
          – Mini Concert by Phum Viphurit, Asia's 2019 Breakout Musician and a New Zealand Alumni.